As we are all aware, disinfecting wipes are a hot commodity. People have been stocking up in hopes of stopping the spread of germs during the coronavirus pandemic.
Here's some expert advice for you: don't flush these wipes down the toilet!
Public officials around the world have been urging people to throw their wipes in the trash, warning that not doing so could cause blockages and damage to sewer systems.
While some wipes are marketed to be "flushable," don't be fooled. The fabrics used to make these wipes, or any wipes to be honest, are not made from the same material as toilet paper. They are made of non-woven fabric, which can also be found in diapers and dryer sheets.
Baby wipes, makeup wipes and disinfecting wipes can clog sewer systems, and officials have been warning us for a long time not to do it. Back in 2018 Charlestown water shared this sobering image of a mass of wipes that grew to 12' long and 36" wide in a collection tunnel.
https://twitter.com/ChasWaterSystem/status/1067857921948729344
They shared this handy infographic - please note that the number of wipes you should flush is ZERO.
"We are seeing an increase in wipes in the sewer system," Alain Gonthier, Ottawa's director of infrastructure services, tweeted Saturday morning. "These can clog sewers and pumps.
"Do NOT flush anything that isn't the 3Ps - pee, poo or (toilet) paper. Put wipes in the garbage."
The sale and use of sanitation wipes is spiking because of the COVID-19 pandemic and officials are worried.
"Flushing this material causes damage to the sewer system and may cause sewer backups in your home."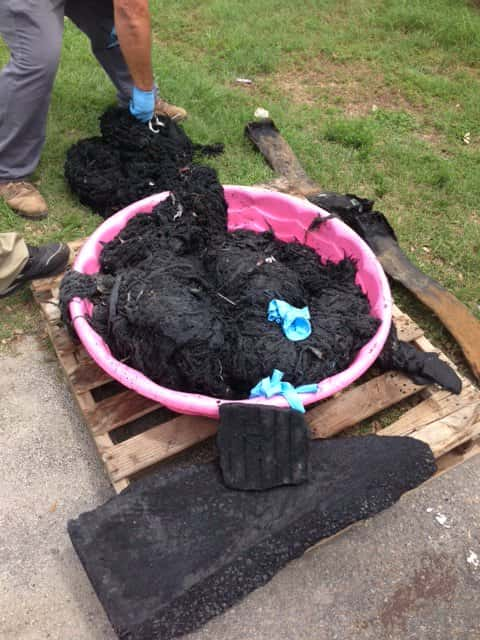 You do not need me to tell you that having this back up anywhere near your house would be awful.
Facilities across California have already reported issues with their sewer collection systems, the state's Water Resources Control Board said.
Many wipes are made of synthetic materials. These materials, when combined with other personal hygiene products that are flushed and grease that is poured down drains, create what waste workers refer to as "fatbergs" in sewers. Here's a video of a 210ft 'fatberg' discovered in UK sewers.
https://twitter.com/Independent/status/1082659635952316417
According to the New York City Department of Environmental Protection , "when a product is labeled 'flushable' it generally means that it will clear your toilet bowl," the department states on its website. "It does not mean it will definitely clear your pipes or break down in the sewer system or at a wastewater treatment plant."
All this to say: Save your pipes. Don't flush wipes.