When you hear about dogs being put in boxes and left at shelters, your mind can conjure up some horrible things.
That doesn't always have to be the case and this time, it wasn't.
A shelter called Xollin, located in the Mexican state of Michoacan found a box on their front step. When they opened it up, to their surprise, was a beautiful puppy with a handwritten note.
The little grey pup had his favorite polar bear toy tucked inside the box along with the note, which appears to have been written by a young child.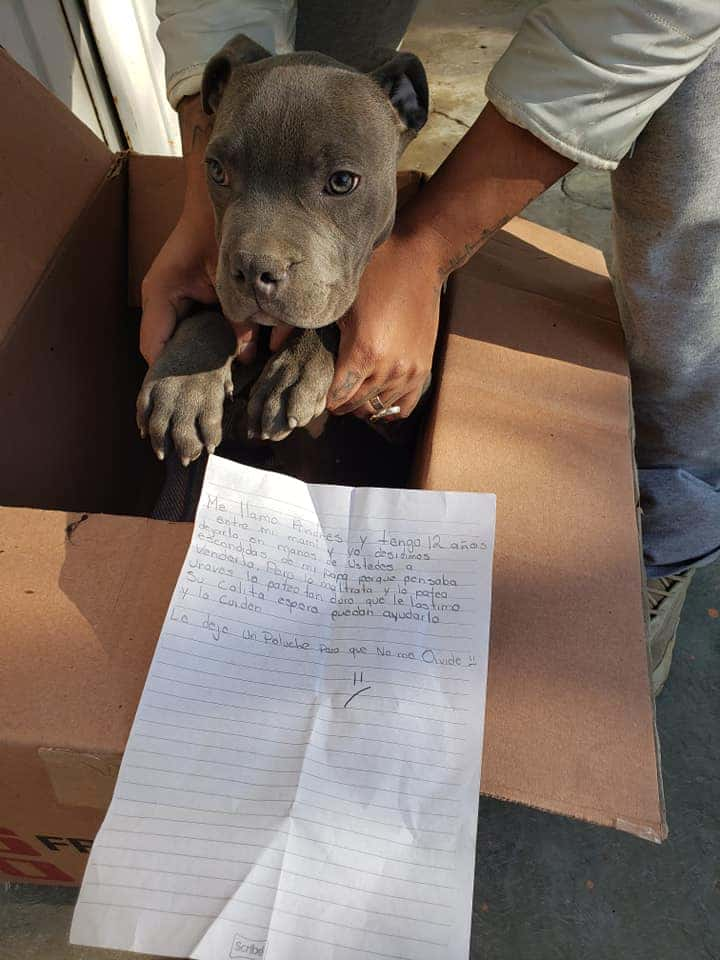 "My name is Andrés and I am 12 years old," the note begins.
"My mom and I decided to leave my dog in your hands, hiding it from my dad because he is thinking about selling him. But he mistreats and kicks him. One day he kicked him so hard that he hurt his tail. I hope you can help and take care of him. I left him a stuffed animal so he won't forget me."
The post quickly went viral. So many were touched by the little boy who loved his dog enough to want it to have a better life!
"How I wish this little boy could know his baby is safe now and how brave and generous of him to think of the puppy first. I wish I could hug this little boy - and pray his father changes. Father may be overwhelmed - which is not to excuse his cruelty."
The pit bull remained in the care of Refugio Xollin while they searched for a forever home. The staff of the rescue got to work, taking the pup to a vet so he could be treated for parasites and get a clean bill of health. "With all that burden of despair, they left [it with] us to be saved," said the staff.
After posting the story of the pup in a box, requests came in from around the country. It seems like the little dog has captured the hearts of anybody who saw his story. The rescuenamed him Rene. So far, more than 300 requests have been made to adopt the little pup.
Xollin made sure to remind everyone that they have 120 other dogs who are in need of a family if Rene is not available. "If everyone opened their heart and their home like this little dog, they would have adopted all our dogs from the shelter," the rescuers said in a Facebook post.
"Great heart of the child and his mother, I hope that monster that mistreated the puppy has not hurt the dog permanently. This beautiful dog will hopefully find good people in his next adoption","Surely Andrés will never forget you. You saved his life at the expense of everything. Thanks, little hero," wrote several Internet users.
With some hard work and a lot of love from the dedicated staff, Rene was placed in a loving home.
https://www.facebook.com/apadrinaxollines/posts/861669110961279